Love Your Skin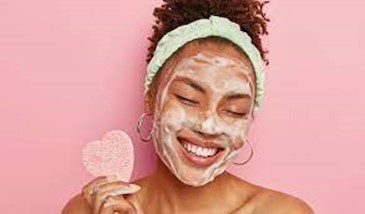 February is the month of love, and it is the perfect time to give your skin some care as well. Cold winter weather can be harsh and drying for our skin, so it is always a good reminder to give ourselves a little bit of extra love this time of year.
HydraFacial is one of our favourite ways to pamper our skin. It combines the powers of deep cleansing, chemical exfoliation, pain free extractions, and intense hydration to give you a boost in helping beat the winter weather. HydraFacial works in a quick, easy 3 step system designed to provide your skin with everything it needs for a good refresh. Step one helps deep clean your skin, cleansing out any impurities and providing a mild chemical exfoliation to help prepare your skin for extractions. In the second step, a light vacuum suction pulls out debris, dead cells, and build up from deep within your skin. Unlike tradition extractions, HydraFacial is pain free with the help of a specialized tip that works to help pull everything out of your pores. This nice deep clean from the combination of the cleansing, exfoliating, and extractions prepares your skin for the final step, where it is bathed in a super hydrating serum. After the first two steps, your skin is ready to absorb the specialized serum, comprised of peptides, hyaluronic acid, and antioxidants that helps soothe and brighten skin, leaving you with the special HydraFacial glow!
Micro-Needling is a great option for those looking to get rid of texture, acne scarring, and fine lines. Micro-Needling works by using a small, precise, 14 needle tip pen to stimulate collagen and elastin to promote smooth, healthy, even skin. The sterile pin point needles create a controlled area of "damage" to activate your body's natural healing response, triggering the production of collagen and elastin. The result is a more even skin tone, reduced pores, and improved texture and firmness. It doesn't stop at your face, though, micro-needling is a great option for those looking to minimize the appearance of stretch marks or scars anywhere on your body.
IPL Photofacials are another great way to love your skin this month. IPL Photofacial helps eliminate years' worth of sun damage, redness, and capillaries, leaving you with more clear, radiant looking skin. Photofacials are a great option for those struggling with rosacea and redness as it helps constrict the blood vessels to reduce the redness and inflammation associated. It is also a great treatment for those dealing with acne, as it helps target breakouts, treating the acne causing bacteria and clearing it away. IPL Photofacial works by using concentrated light energy to target the redness, pigmentation, and bacteria deep within your skin. The light energy Is converted to heat energy, which targets the specific damaged skin only, evening out your skin tone for a youthful and illuminated glow.
There are so many great options to help you achieve your skin goals, if you're unsure which treatment route is right for you, come in for a consultation and we can help guide you to your perfect treatment plan, so you can fall in love with your skin.